Don't Let Depression Get You Down or Keep You Down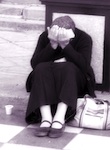 Depression is insidious. It can sneak up on you so slowly that you don't even realize what is happening. Or it can begin suddenly. You don't even remember when you started to feel bad…but you know you do. It can start in response to a stressful or traumatic event. Or there may be nothing particular that you recognize as a trigger.
Addictive behavior and relapses can be attempts to decrease unrecognized depression and/or causes of depression.
I want to give you some tools to recognize if you or someone you care about is depressed. So you can get help.
In this video from the National Institute of Mental Health (NIMH), a person who has experienced depression describes what it was like for him and how he got through it. And yes…men as well as women get depressed. The video describes the causes, symptoms and treatment of depression as well as research being done by the NIMH to learn more about depression.
Completing a depression screening inventory can help you determine whether or not you are depressed and if so how bad it is.
Here is a link to a downloadable depression inventory. The QIDS-SR16 Depression Inventory screens for the presence of depression and level of depression. And please…as long as you are filling out  the depression inventory also complete the Zung Anxiety Screener that assesses anxiety. Anxiety often goes along with depression. I provide links to these inventories, further information and resources on the Depression and Anxiety page of my website.
The more information you have about your symptoms the more you are able to get appropriate treatment.
If you feel down and it is not going away on its own or through talking to family members or friends, call a mental health professional or talk to your health care provider. They can do an assessment and make suggestions for treatment. If you would like to contact me I can do a free initial phone consult to determine if coming in for an initial assessment with me or another health care professional would be helpful.
Most importantly, you don't have to continue to suffer.
If you have trouble viewing this video, you can go directly to the video Depression.
---
Shari Cohn, LCSW, CSAT is a Certified Sex Addiction Therapist providing
Sex Therapy, Sex Addiction Therapy and Psychotherapy to the
Madison, Wisconsin area for over twenty years.
Shari specializes in helping sex and porn addicts, partners of sex addicts, abuse and trauma survivors, ptsd and sexual problems.
"Reclaiming Sexuality…Reclaiming Your Life…One Step At A Time"
Visit Shari 's Website and Blog 
Call Shari at 608-237-8000 x 109