Mending A Shattered Heart: A Guide For Partners of Sex Addicts Author Stefanie Carnes Audio Interview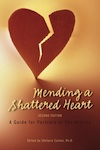 Mending A Shattered Heart: A Guide For Partners of Sex Addicts, Second Edition edited by Stefanie Carnes, PhD is a rich resource for partners of sex addicts needing information and guidance to help them deal with their overwhelming and traumatizing situations.
Dr Stefanie Carnes did an audio interview with Becky Papp discussing the updated book and some of the issues facing partners of sex addicts and their families. You can listen to the interview at Becky Papp's Podcast and Becky Papp's Podcast at ITunes.
Each chapter of the book is written by clinicians who have specialized training and extensive experience providing therapy services to sex addicts and partners. Dr Carnes is both the editor of the book and author of chapters in it.
The information and advice the authors offer is helpful for partners who are newly reeling from their discoveries as well as those farther along in their journey who are trying to understand their evolving situation and decide their courses of action.
The book is organized in a question and answer format. The first section of the book focusses on topics that are usual for all partners of sex addicts. The second part addresses specific issues that are of concern to some partners. Additional resources are also included.
Chapters in Mending A Shattered Heart: A Guide For Partners of Sex Addicts, Second Edition include:
"Part One:  For All Partners of Sex Addicts"

"I Need to Know Everything that Happened… Or Do I?"

"Is This Going to Get Better?"
"Should I Stay or Should I Go?"
"How Do I Set Boundaries and Keep Myself Safe?"
"What About Me and My Sexuality?"
"What Can the 12 Steps Do for Me?"
"How Can I Begin to Take Care of Myself?"

"Part Two: Specific Situations"

"What Should I Tell The Kids? (For families with children)"
"What Does It Mean if My Partner Has Shown an Interest in Minors (Specifically for partners of addicts with an interest in minors)"
"How Does Sex Addiction and Infidelity Affect Gay Couples? (For partners in same-sex relationships)"
"Straight Guise: Is My Partner Gay? (For partners of male addicts with an interest in other men)"
"I Have Decided to Go. What Do I Need to Know?"
"Can We Make It as a Couple? A Couple Talks about Long-Term Recovery"
Mending A Shattered Heart addresses questions, problems and dilemmas challenging partners, spouses and families of sex addicts. The authors offer information, perspective and strategies to assist them in making the best choices that can be made in extremely difficult circumstances.
Please visit my website if you would like more information about Sex Addiction and Partners, Spouses and Families of Sex Addicts.
---
Shari Cohn, LCSW, CSAT is a Certified Sex Addiction Therapist providing
Sex Therapy, Sex Addiction Therapy and Psychotherapy
to the Madison, Wisconsin area for over twenty years.
Shari specializes in counseling sex and porn addicts, partners of sex addicts,
abuse and trauma survivors, ptsd and sexual problems.
"Reclaiming Sexuality…Reclaiming Your Life…One Step At A Time"