Newsweek: The Sex Addiction Epidemic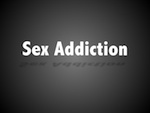 Chris Lee's November 25, 2011 Newsweek article "The Sex Addiction Epidemic"and MSNBC interview describe the destructiveness of sex addiction. 
It wrecks ­marriages, ­destroys ­careers, and saps self-worth. Yet ­Americans are being ­diagnosed as sex ­addicts in ­record numbers. Inside an epidemic.
His description of the ravages of sex addiction matches my experience as a Certified Sex Addiction Therapist working with people with problematic sexual behaviors – both men and women – and their partners.
For Valerie, sex was a form of self-medication: to obliterate the anxiety, despair, and crippling fear of emotional intimacy that had haunted her since being abandoned as a child. "In order to soothe the loneliness and the fear of being unwanted, I was looking for love in all the wrong places," she recalls.
Mr Lee shares accounts of  the progressive pattern of sex addiction. He quotes a sex addict named Harper who realized how sex addiction was altering his view of what is and is not "normal" sexually.
The worst part, he says, was that his sex drive ultimately changed "what I think is normal," as his tolerance grew for increasingly hard-core forms of pornography. "It really is like that monster you can't ever fulfill," says Harper, 30, who has avoided dating for the past eight months and attends a recovery group. "Both with the porn and the sex, something will be good for a while and then you have to move on to other stuff. The worst thing is, toward the end, I was looking at pretend incest porn. And I was like, 'Why is something like that turning me on?!' "
Mr Lee reports on the expansive population of people struggling with this issue.
The demographics are changing, too. "Where it used to be 40- to 50-year-old men seeking treatment, now there are more females, adolescents, and senior citizens," says Tami VerHelst, vice president of the International Institute for Trauma and Addiction Professionals. "Grandfathers getting caught with porn on their computers by grandkids, and grandkids sexting at 12."
In this MSNBC interview, Chris Lee describes his initial skepticism about the concept of sex addiction. He changed perspective after interviewing therapists, researchers and people suffering from sex addiction and understood the serious reality of and damage caused by this problem.
If you are not able to view the interview, you can see it at "The Sex Addiction Epidemic"
---
Shari Cohn, LCSW, CSAT is a Certified Sex Addiction Therapist providing Sex Therapy, Sex Addiction Therapy and Psychotherapy to the Madison, Wisconsin area for over twenty years.
Shari specializes in helping sex and porn addicts, partners of sex addicts, abuse and trauma survivors, ptsd and sexual problems.
"Reclaiming Sexuality…Reclaiming Your Life…One Step At A Time"
Visit Shari 's website and blog at www.ShariCohn.com