Learn About Sex Addiction and Hypersexual Disorder from The Society for the Advancement of Sexual Health (SASH) Video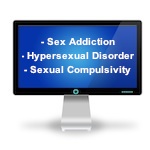 It's difficult to talk about problematic sexual behaviors.
As a Certified Sex Addiction Therapist, I am always looking for tools to help constructive discussions happen.
I want to share with you a free two part video made by The Society for the Advancement of Sexual Health (SASH) that can help you learn about and talk about sexual addiction and hypersexual disorder. 
I am a professional clinical member of SASH.
The SASH website describes the organization:
The Society for the Advancement of Sexual Health (SASH) is a nonprofit multidisciplinary organization of professionals dedicated to scholarship, training, and resources for promoting sexual health and overcoming problematic sexual behaviors.

While our primary focus is on hypersexuality which is most often described as "sex addiction," we also seek to provide resources for other problematic sexual behaviors. We strive to provide ongoing research, training, advocacy and support to our members, many of whom are professionals and work with people who suffer from problematic sexual behaviors.

We also seek to provide current and scientifically accurate information and education to the general public in the hopes of raising awareness, lowering stigma, and opening doors to treatment, prevention, and hope.
SASH has made this video to provide information regarding scientific perspectives of sex addiction, sexual compulsivity and hypersexual disorder including description, definition, consequences, impact and resources.
I think the video helps the discussion about these challenging topics.
On their website SASH acknowledges the differing ways of naming this problem:
Hypersexual disorder is currently the preferred term by the medical community both for diagnostic purposes and in the research literature. However, many clients and practitioners identify with the addiction model in trying to understand and treat this disorder. Hence, the term sex addiction continues to be widely used. No matter what you decide to call it, it's important to focus on the concept rather than the words. ….
I hope you find the video helpful. Please contact me if you have questions and would like further information about these issues.
In my website and blog, I provide information about Sex Addiction, Sexual Compulsivity and Hypersexual Disorder, Internet Porn Addiction and Cybersex Addiction and Partners, Spouses and Families of Sex Addicts.
Websites for resources mentioned in the video are the Society for the Advancement of Sexual Health (SASH) and the International Institute for Trauma and Addiction Professionals (IITAP).
Here is Sex Addiction Part 1 – Description/Definition as introduced by SASH:
There is a lot unknown about sex addiction. In fact, we still don't agree on the name. However, what we do know is that it is a disorder that can affect everyone — men, women, straight, gay — and it's found in almost every ethnic group. The origins of this disorder are most likely a complex interaction of biological, psychological and environmental factors. Changes in the brain, genetics, trauma, early life experiences, have all been implicated. Each person has their own story, but the story is the same. Sex Addiction is real problem that affects real people.
Sex Addiction Part 2 – Consequences/Impact  is prefaced in this way:
The list is long and difficult to comprehend. Sex addiction impacts lives in ways we can't even imagine. Job loss, divorce, loss of relationship with family and friends, disease, pregnancy, arrests, legal implications.
If you are not able to see these videos on your browser, use the following links to view Sex Addiction Part 1 and Sex Addiction Part 2.
---
Shari Cohn, LCSW, CSAT is a Certified Sex Addiction Therapist providing
Sex Therapy, Sex Addiction Therapy and Psychotherapy
to the Madison, Wisconsin area for over twenty years.
Shari specializes in counseling sex and porn addicts, partners of sex addicts,
abuse and trauma survivors, ptsd and sexual problems.
"Reclaiming Sexuality…Reclaiming Your Life…One Step At A Time"
Visit Shari's Website and Blog. 
Call Shari at 608-237-8000 x 109